Because of the dismal sales levels at Saskatchewan Expo last year, I didn't get my hopes up for this year.
However, I'm happy to report that this show set a new record for me in more ways than one.
First off, Tyson and I decided to carpool to Saskatoon with our good buddies Vince Seim and Chance Clark of H3 Trilogy. We had deep conversations all the way there and back, which definitely helped the long trip go by faster. After setting up later that Friday night, we went for dinner at Primal. I ordered squid ink pasta. That's noodles served in a jet black sauce. I know it doesn't sound appetizing, but it came highly recommended and man was it ever good. It will have to be the restaurant of choice every time we come back to Saskatoon.
Saturday morning went as expected, not super busy and people artfully avoiding the table, but luckily, that didn't last all day. My table display markedly improved over last year, which I believe contributed to the increased traffic to my booth.
This brings me to the first of my record-breaking news. Saskatchewan Expo went from being my worst con in terms of sales to the best. In the last few cons, I've discovered something strange. No matter how many days the con lasts or its size, I sell the exact same number of books each time (with the exception of Saskatoon last year, of course). It appeared as if I'd sell the exact same amount again, until someone came up to chat while we were packing up. I mentioned how weird it was that I keep selling the same number, and he purchased both books! (Pity sales are still sales, jk).
The pressure is now on Edmonton to beat that record.
There were some other neat things:
1. The con seemed better attended than last year. There were times where the crowd's density were that of Edmonton's. Part of the reason for this may have been there being more famous celebrities, the main food concessions being down the aisle from my booth, and the narrower pathways. It wasn't as easy for the crowd to avoid our booth this time.
2. I had two return readers come by the booth looking for the next one. Of course I didn't have a new book for them to buy. One of them said she read EOV and was half way through IS. I asked her what she thought and she said, "Well, out of all the books I bought at the expo last year, I enjoyed yours the most." I then wanted to ask her what other books she bought so I could secretly compare myself to them, but I ignored that little devil on my shoulder and said, "Thank you, I'm so glad you enjoyed it." I'll just leave it at that.
3. We had really great neighbors. To my left was a booth selling honest to goodness hand puppets. They drew a lot of attention and were the quality you'd expect from the Muppets or Sesame Street. To my right was a super nice lady selling steam punk paraphernalia. She was my first book sale of the weekend, and I purchased a pair of earrings from her later on.
4. Tyson and I were invited out for supper with some of the comic book creators. A couple we knew from other cons and the rest we met for the first time. One of them purchased a hardcover!
5. And how could I forget the second record-breaking moment for best purchase at a con. I went to get food on the Saturday and found this gem on the way back.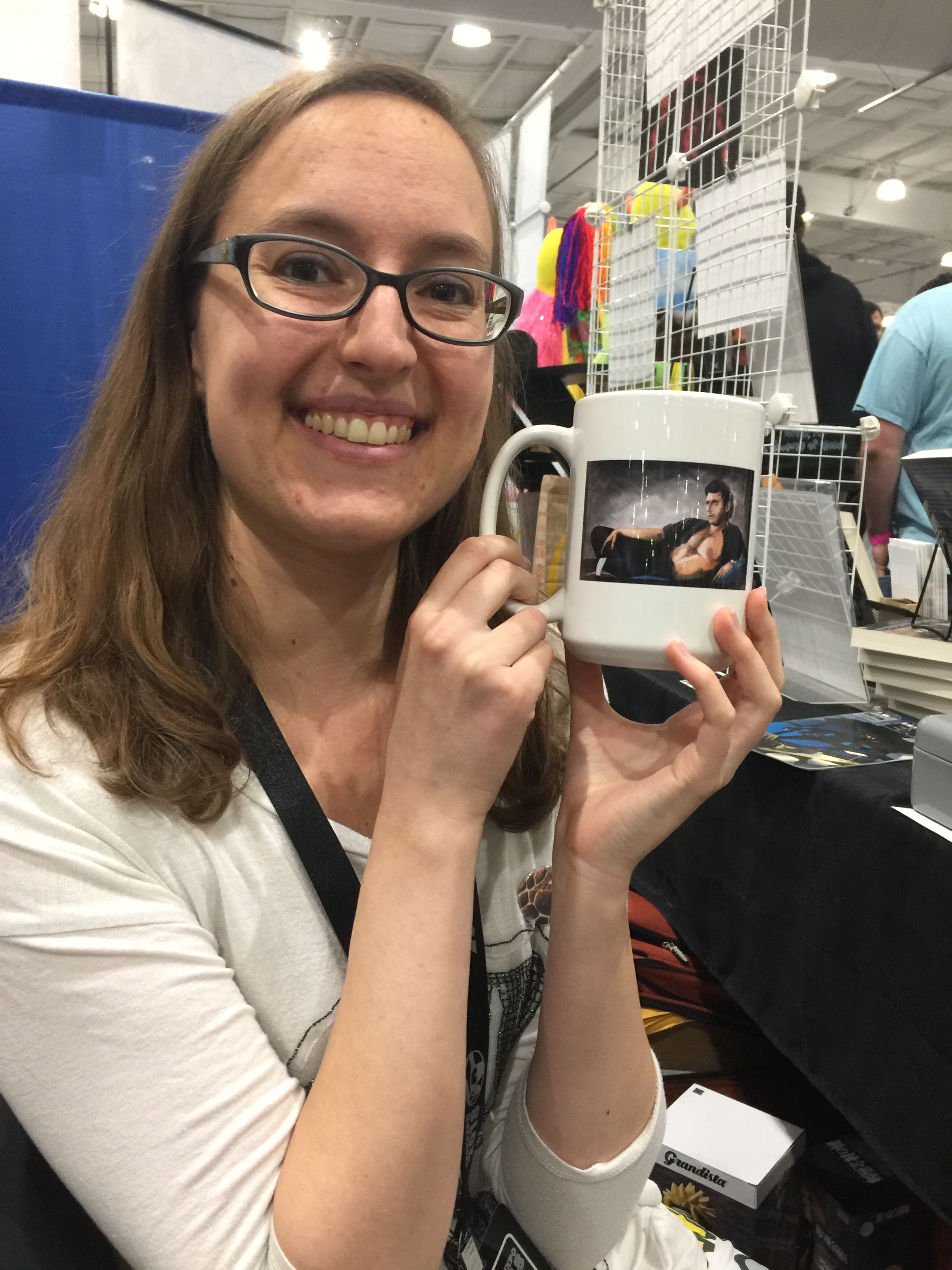 As for things to improve for future shows:
1. My banners need some serious updating. There was an author booth with tons of books on his table and banners screaming, 'Award winning this' and 'Starred review that.' I was kicking myself because I have both those things, but didn't take the time to capitalize on all of it. I have signs showcasing my IPPY award, but no mention of Booklist. I need to get my butt in gear and update my banner for Eye of Verishten and probably Immortal Serpent too, given the changes coming down the pipe for that series.
2. My pitching skills are getting better, but when people ask me 'What are your books about?' I still either freeze up or go into a long spiel about each one until the attendee's eyes glaze over. It was fine when I just had one book, maybe two, but I won't be able to get away with that for three. I need an all-encompassing pitch that more or less brings all my books together. Between the booth, diorama, and cover art, I'm definitely capturing people's attention, but still so many slink away saying, 'I'll come back when I'm done looking around.' I feel I can convert these people. These are the different pitches I use with varying results:
a. My books are Game of Thrones meets Outlander.
b. My books are like Brandon Sanderson's, if he would take certain things further if you know what I mean, wink, wink, nudge, nudge.
c. My books are set in the same world, but follow different characters in different places where they sometimes crossover. (This pitch is still the most effective so far).
Perhaps this is just the nature of the game. You just can't win over everyone, but I still think there is room to improve that conversion rate.
I will definitely have more to think more about come Edmonton Expo Sep 21-23. Hope all who are in that area can come out.